Marianne Girard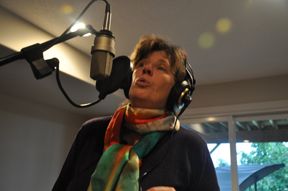 Canadian Folk Music Awards nominee, Marianne Girard

 will "melt your heart and move your feet".  Born in London, Ontario, and raised in rural Middlesex County, Marianne's musical awakening began in the London Smale's Pace Coffee House music scene in the company of prominent Canadian artists like Stan Rogers, the Good Brothers, Willie P. Bennett, David Bradstreet, Colleen Peterson, 
Lisa 
Garber, 
John 
P. Allen and Colin Linden.
She has toured her own finely-crafted and powerful music throughout North America and Europe. Marianne's songs paint vibrant landscapes, firing up the senses with a deep understanding of the human condition, a spectacular voice, and irresistible roots grooves. In 1992, she wrote and performed the theme song for the United Nations Peace Conference.

Raising a family on her own, Marianne stopped touring when her young daughter pleaded, "Mom, I just want a normal life!"  Girard's life as an artist led her to re-train as an expressive arts therapist in rural clinics, reserves, schools, rehab centers and hospitals. This allowed her to stay close to home to raise her daughters. In 2002, songwriter, Norm Hacking coaxed her back to the music business which soon led to the release of Marianne's album, "In This Town" produced by John Switzer.
A highlight of this re-emergence was her live performance in 2006 on the "Midnight Special" at WFMT radio in Chicago, which broadcast worldwide on XM/Sirius radio.

Marianne has three albums, 'When It Hurts', 'In This Town', and 'Pirate Days'. This latest work was nominated for a Canadian Folk Music Award. 

Girard has appeared on many compilation recording projects, as a featured performer and as a session singer and player.

The Toronto Star's Greg Quill describes Marianne's music as "…a revelation... alternatively bold and tender...served exquisitely by a voice that's unequivocally pure and joyfully unrestrained..." and he describes her songs as "panoramic ruminations'".

Penquin Eggs, Canada's Folk magazine's response to the work:  "Wow!... Not likely to forget about this one. She DOES stand out. Big time!"

"I think that one measure of a good album is if you go around for days after listening to it with a couple of the songs constantly playing in your head," says Eli Marcus, Peace Radio, Israel. 

RTL Radio Belgium dubbed her a "Canadian nightingale."

All Music Guide points to her "consistently stellar performance".

Toronto Life magazine describes Girard's work as a "tour de force."